Updated by JC
Overview
This feature will expire credentials that have not been used in a certain number of days. An administrator has the ability to set an expiry day limit for unused credentials across the entire account from 5 to 365 days.
Prerequisites
An administrator must have the following permission to use this feature:

Steps to Expire Unused Credentials
To start, navigate to the Account Settings page under the Configuration menu.
Navigate to the Expire Credentials section.
By default No expiration is set.  Choose a pre-defined expiry time or choose custom to input a number between 5 and 365 days.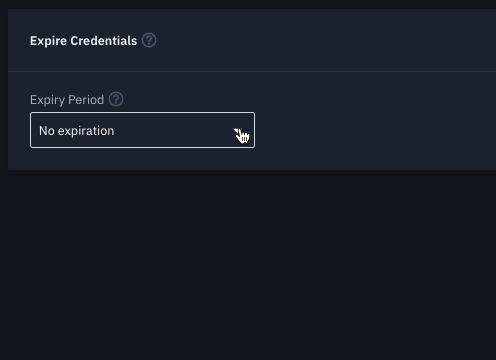 Once done, click the Save Changes button.
When a credential that has not been used reaches the expiry period, the credential will be considered expired by applying a date to that specific credential's Effective to field in the User's profile.
To reinstate an expired credential, simply remove the Effective to date & time set for that particular credential under a User's profile.

Related Articles
How-To Video