Setting a custom Logo for BMP
Setting a custom Logo for BMP
Updated by Mark Chandler
Overview
Brivo Access Administrators have the ability to upload a custom company logo for use on the Brivo Mobile Pass (BMP) mobile application to replace the default Brivo imagery.
Prerequisites
Image should be GIF, PNG or JPEG with maximum size of 2MB. A transparent PNG in a square dimension at least 200px large is recommended.
To upload a custom logo, the following Administrator permissions are required:

View account settings
Update account settings
Steps to Setting a custom logo for BMP
Navigate to the Account Settings page under configuration.

On the Account settings page, click Brivo Mobile Pass shortcut, or scroll down to the Brivo Mobile Pass section.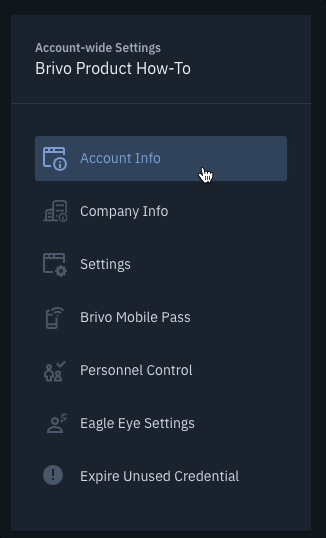 Click Upload Photo.
Browse to the location of the file on your workstation.
Click Save Changes on the bottom right side of the page.
Related Articles